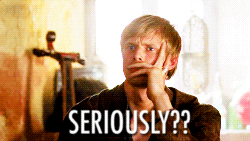 Like, really?
Really, really seriously?
I did not, and I mean did NOT, see this coming. It ended? Just like that? I watched it like I would any other episode, without so much as hint that this was it. These past few episodes have been a confusing blur. Too much happened and  most of it made no sense and it was so rushed. I have read only seven volumes of the manga, I couldn't find the last two ones. But dude, I feel so underwhelmed!
I reviewed the episode up till the 17th episode and it ended on the 24th so I have a good seven episodes to cover now. Great. I'll try to imbue as much disappointment into this as I possibly can because whyyyyyyyyyyyyyyyyyyyyyyyyyyyyyyyyyyyyyyyyyyyyyy.
Episode 18: Forgive and Forget
Chise gets a new friend and Elias throws a tantrum. Add a very confusing cameo by some fae entity, a dragon kidnapping and the now traditional passing out of Chise and voila!
Honestly, I liked the Chise/Elias moments but the rest was pretty mixed. I've been really bummed with the magic aspect of this series from the beginning. There isn't a clear sense of what's what and the girl that showed up out of the blue and helped Ruth had me like, eh? Who dis? Cartaphilius came back and that was cool since I was itching to know more about that guy.
Episode 19: Any port in a storm
Cartaphilius kidnaps two dragons and sells one and Elias and Chise with a bunch of Alchemists plan to buy it from the same auction Chise was sold at.
Again, so many different things that are just not given enough time. The alchemists for one, they have this entire college dedicated to studying magic and yet as much as wanted to know more about it, its mention was restricted to just Elias not letting Chise go there and learn. There is a mysterious woman that shows up who wants God knows what from Chise but then the dragon transforms and breaks loose.
Episode 20: You can't make an omelet without breaking a few eggs
So despite knowing how fragile she is Elias straight up lets her do magic whenever she's having these sympathetic "feelings" for others. Blegh. To stop the dragon, she drains its magic (great idea) while Elias conveniently gets blasted in the face and so Chise gets cursed transforming one of her arms into a monstrosity. Shannon, the fairy doctor tells her that she's gonna die. What else is new?
And the woman that appeared out of nowhere in the last episode happens to be a witch who offers help in exchange of Chise joining her coven. There are witches and covens too and we only get to know about it in episode 20 and then five minutes in the next one. How DOES this world work?
Episode 21: Necessity has no law
The meeting with the witches bears no fruit, obviously, instead we see how their leader has been grown into a tree because of something I don't remember. The witch from before cries and stuff and I was confused if I was supposed to give a shit about some random witch leader that literally just disappeared after 5 seconds.
Elias tries to sacrifice Stella to save Chise because it's a stellar idea, Chise finds out, slaps him and walks out and Stella is actually Cartaphilius so everyone's like damn but Chise goes with him anyway to save the remaining dragon and Stella.
Not gonna lie, Chise being pissed at Elias and leaving him, that was a development I actually liked. I still didn't get the hint that the show might be about to end but they were delving deeper into that child freak's mystery which was definitely a plus.
Episode 22: As you sow, so shall you reap
I should also mention that whatever coherent bit of summary I can manage here is by reading the Wikipedia page because watching didn't tell me shit.
Cart (short for his too long name I'm tired of writing) wants to switch places with Chise, he wants to die but is cursed to live forever which vice versa for her so he proposes an exchange of arms but swaps eyes instead first to check if it would work. Yikes. I thought that was a clever idea.
So we saw Chise past and how his father left with his brother. Just like that. No shit, bro, thanks for showing us exactly what you told with no real insight as to why the heck it even happened. And Chise's "moving on" bit was not moving in the least bit. The thing I actually wanted to know was what they skipped entirely.
Episode 23: Nothing seek, nothing find
Elias is throwing a tantrum, again and those two weridos Oberon and Titania try to coerce him into living in the fairy land with Chise but he refuses because sentiment and then they find Chise and chase Cart/Joseph around.
We finally see why he calls himself Joseph while others call him Cart-a-what-sits. So after they merged together, Joseph/Cart became an alchemist? Or was Cart always an alchemist, even when he "threw a stone at Jesus". I guess we'll never fucking know.
Episode 24: Live and let live
After Chise catches up to Cart it is followed by a bunch of crazy shit that I was barely able to follow but basically what happened was she linked herself with him and now they'll live forever.
And then Chise accepts herself as Elias's bride, she's in a flipping wedding dress and they exchange rings so why the fuck not, eh?
Now, if there's to be a second season this might be comforting because as it is, this was THE most lame thing I've ever seen. I can't even begin to describe how disappointed and betrayed I feel though I certainly hope it's apparent from the cranky commentary.
Here's a list of things that needed urgent addressing:
Where did Elias come from? "Appearing out of nowhere" may sound intriguing for a while but it wears off surprisingly quickly. "Child of Thorns", "Halfling" and many other nicknames are tossed around for Elias even a casual assumption that he might have dabbled in dark magic to become such a thing. However, NOT enough.
Was Elias never going to transform completely into a human? I meannnnn… you know what I mean!
Chise's father just up and left with her brother in the middle of the night and never came back? RIIIIIIIIIIIGHT.
I'm still vastly unclear about the rules of magic and the slay vegga/beggie situation but that is probably just me. But not really. The college, witches, covens, alchemists, mages, fae, there's a lot but you can't still grasp the essence of it all, know what I mean?
And, now that I think back on it, Elias just straight up expressing his hope of making Chise his bride after buying her from an auction made no sense! He wanted to learn more about humans? Well, he could have easily done it (and did too) without that part. So I ask again, WHY. (0-o)
I seem to have run out of questions just now but NO MATTER. These should suffice.
There are prequel episodes as well which I haven't seen but I  read that these were incorporated into some of the early volumes which I have read so I guess I won't find the answers I'm looking for.
I'm just genuinely so upset with the whole show. It should have had at least 30 episodes and taken the the time to satisfactorily explain things instead of just rushing past them while introducing new characters and things in every episode that just as easily fled from memory.
The show had its moments, funny ones, sweet ones but save from a couple of episodes I don't think I was blown away by anything in particular. And the way I'm feeling right now is overshadowing the rest as well. Let's not forget the utter disaster that was the change in the show's theme song. Eurgh, so bad.
Rating:
I would give this series a 3/5. I wish it made more sense than it did.
Cheers!