Rule # 1: The person who watches this film expecting no deviation from the original and a completely faithful adaptation is stupid.
Rule # 2: After starting the movie, drastic changes from the Japanese version will become evident withing six minutes and forty seconds.
Rule # 3: A person who still doesn't get over it and rages at the variation should a) watch the Japanese adaptations instead or b) get a life.
Rule # 4: If you are reading this, expect spoilers.
Just sayin'.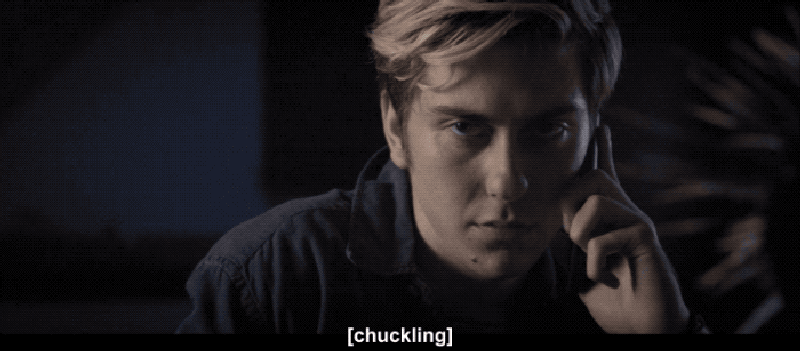 Willem Dafoe's Ryuk voice is DA THANG, YO HOMMIES!!! He absolutely nailed the "Humans are so interesting" line. I didn't catch wings on his Ryuk, though but that is probably because I didn't pay much attention. Otherwise, his rendition was flawless and so damn scary.
So, shall we begin?
Differences between the Anime version and the Film version:
First of all, Light Yagami, or, Light Turner as he is in this film. He is not an asshole, he is not a psychopath, he is not a veritable JERK and he's not messed up in the head. He's a teenager who has a somewhat difficult life after losing his mother and he's bullied in school. Relations between him and his dad are strained because he blames his father for not doing anything about his mother's murder. Long story short: His life's not perfect, he is not completely evil, his motivation for picking up the death note stems from his tough experiences rather than idealism.
Whereas Yagami was the exact opposite: horse's ass, perfect life, evil and idealistic.
This is a 2-hour film which adequately explains the fact that a huge chunk of the original story is missing. In fact, apart from the central idea and a few main characters, everything is new. So no Matsuda, Aizawah, Rem, Near and a lot of other characters.
The film does a much, MUCH better job at explaining things, particularly Light and L's pasts and why they are what they are. With the anime I was disappointed in terms of L's origin story.
Misa Amane is Mia and she as worse as the original one. While Misa was gullible, willing to go to extreme lengths for Light, Mia displays the same love but it's overshadowed by her need to have the Death Note. In this version, she is more idealistic than Light himself. He tries to draw a line multiple times but she fights against it.
Their relationship is obviously not one-sided this time as Light isn't dead inside.
Ryuk is considerably more malevolent. The shinigami don't  goad the owners or "keepers" of the Death Note but he coerces Light whenever he gets the chance.
Yagami encountered Ryuk in his room while being calm AF while Turner lost his shit while inside a classroom during detention. It was hilarious. Nat Wolff really has a very nice scream.

L remains L and Watari remains Watari. I have EXTREMELY mixed feelings about the American version of L. He's black, which in itself is absolutely fine, BUT, I wanted to see him, above all others, true to the anime version. He's supposed to be pale as death, queer in his habits with dark circles under his eyes, evidence of his lack of sleep and sun. I put it past me after a while and was able to enjoy the actor's portrayal. His mannerisms, way of speaking and the incessant munching was so accurate I was almost delighted. Until, L turned out to be insane. Yup. He's aggressive, hysterical, he shouts (which the original L never did) and he seems unhinged. Again, the L I love was odd and everything but he had this way about himself, that soft way of speaking. The actor mimicked this softness pretty well but it didn't last long.
The gory details, though.
I loved how Light turned the situation in his favor at the end despite being double-crossed by Mia. I thought that was AWESOME and reminded me of  Light Yagami for a second.
I had my qualms but this was as good as it was gonna get. I'm chilled but that's gotta be because I'm not a die-hard fan of Death Note. If someone did something like this to, say, Harry Potter I would have totally flipped out and destroyed everything in my path, BUT, the thing is, where adaptations are concerned, you have got to keep your head and realize that if a different country/language is interpreting something, they're likely to either modify things according to their culture or take some form of artistic license. You want a faithful adaptation? Well, then go watch the Japanese versions. Easy peasy. But showering a man with death threats AFTER he was given permission to do his own spin by the CREATORS? You are messed up, people. That's all I have to say.
My Rating: 6.5/10