Yes, I watch Doctor Who. Innumerable posts on Pinterest about Sherlock, Merlin, Doctor Who and Supernatural lead me to it. I binged on it in early 2016 then had to wait for the 10th series for nearly two years. I've finally watched it now and here I am, letting it all out.
Twelfth has been our favorite so far in the new series. My nephews and I instantly warmed up to him and his theme.
I thought I loved Matt Smith and his theme but oh, no. I wonder if I'll feel the same towards 13th, I can't really say. What I can say at this moment is that I'm not too thrilled with the idea of a female doctor. I'm sure she'll be excellent but THE doctor, for me, was a stumbling, bumbling and adorable man, begging your feminist pardon if you find yourself offended.
I started with the Christmas Special The Return of Doctor Mysterio so I'm counting that in here as well. That special was brilliant and so much fun!
It was such a happy, cool and funny episode, one to see with the kids. I used to be a fan of Justin Chatwin when I was a leetul kid ehehe and I was rewarded by his adorable role. Also, the gorgeous dude from Merlin, Gwen's brother was in it too.
This series, though, was less than satisfactory, I'm afraid. There were 3 or 4 episodes which were really, really good but most of them fell short and I felt it keenly. Same with the new companion, Pearl Mackie is gorgeous and amazing but Bill Potts wasn't remarkable in any way. Martha Jones also accompanied the Doctor for a year but she made comparatively more of an impact. Besides that there was Missy, everything about her storyline was awful and then Nardole. I liked Nardole, probably a lot more than Bill.
Furthermore, each series in the past built up to something huge with perilous with grave consequences for the world if not the universe at large. In this regard too, this series was mellow. The final storyline was AWESOME make no mistake but I felt the danger and threat was a bit contained? There was also no buildup whatsoever, not to the Doctor's regeneration or to the 'final' enemy. There were individual stories in this series, some stretching to two or three episodes but none of them lead to something 'big' at the end.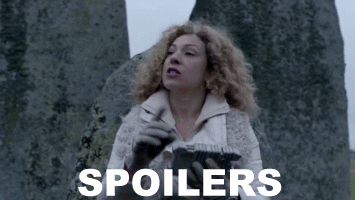 The Pilot:
Okay, so it was a decent enough opening. The episode had its moments and I was genuinely scared at times (Rule: Good Doctor Who episodes a) scare you shitless b) shatter your heart into a million pieces because they are cruel c) both) In the past, when the companions entered this moment of before and after by entering into the Doctor's crazy companionship they were all fazed and shocked and all that. Bill took it effortlessly, too effortlessly I thought. I don't think I minded, it's just what I noted.
Smile:
This was C-R-E-E-P-Y in a cool way. Love her shirt.
Just look at their faces! It was a potentially dynamic pairing. Potentially.
Thin Ice:
This was another avearge-to-good episode. I enjoyed it but I was put off by Bill's 'argument' with the Doctor. It felt forced as if it had to be done. All companions have been known to rattle the Doctor's conscience when it seemed like it had gone to sleep (did it ever though?), urging him to save lives and such, but this was entirely out of place.
Bill's anger didn't make any sense, the boy that died was already dead and there was nothing the Doctor could do. He's seen so much and solved so many scenarios like this he knows the best course of action is to focus on identifying the problem and doing something about it rather than moping. She dived into things with him with such ease, it should have been easier for her to understand that he does this all the time and knows best. Eh.
I may be reading too much into it but I did not like that scene and is also part of the main problem for me in this series: the companion wasn't sketched well enough. She was just filling a place and developing an emotional attachment to her proved rather difficult.
Doctor's attempts at slang were hilarious.
Knock Knock:
One of my favorites from this season! I loved loved loved the spookiness! The story was great, the Doctor-Bill banter where she pretended that he was her grandfather was great, Doctor chatting it up with her mates was F-U-N-N-Y
and I enjoyed it immensely while being scared shitless. YAYY.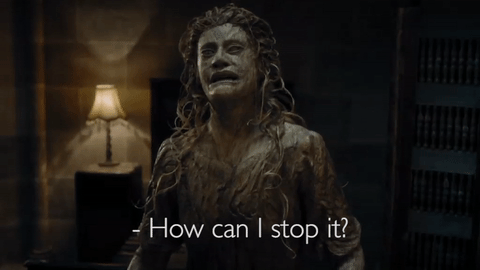 I had turned out the lights at the start but immediately realized what a bad idea that was so on came the lights. LOL.
Oxygen:
Even though this had a lot of action and stuff, my final impression of it is still that it was okay-ish. The best part was the Doctor being blind, being alright and then the cliffhanger at the end that he was pretending to see and was still blind. I was like HOLY SHIT.
AND! Now that I remember it, the storyline about Capitalism and corporations being evil and expending humans in favor of robots is something I frequently read in sci-fi so that was, like, cool and stuff.
Extremis – The Pyramid at the End of the World – The Lie of the Land:
The most tedious and flat storyline in the whole series, if not the past few years worth of series. The Monks were so bland and dull? It was hard to take their threat seriously. Extremis, out of all the three, was a bit more engaging. The only funny thing was the Doctor depending on Nardole as his eyes.
Otherwise it was just the Doctor risking his neck and the humans throwing it all away being thick (typical stuff) while unappealing as shit villains walked in rags and talked about 'consent' and 'love'.
Empress of Mars:
Eurgh. The Ice Warriors were neither impressive nor particularly fearsome, the whole British-soldiers-stranded-on-Mars-having-tea wasn't amusing in the least and the landscape (in this case, caves below the surface) wasn't helping matters. The weapons they used that turned people into grotesque turtles, dead ones was perhaps the only thing of note.
The Eaters of Light:
This episode, veritably, left a bad taste in my mouth. It. was. HORRIBLE. Literally, the worst episode of this series. The Doctor wasn't being his "I'm a hilarious mean genius who will save you all" self, he was a total dick to the warrior girl. And, his whole, 'let me sacrifice myself to save you all' routine, pretty much like the Doctor-Companion argument on morality, felt forced and out of place.
Clearly, there were people willing to defend the portal, obviously, they were going to do it and his logic that they were mortal and couldn't guard it forever didn't stop them, did it? Nor was he correct if that horrible music coming out from under the Earth after hundreds of years was anything to go by. What was that actually? They just stood there and fought the Eaters forever? Until they dropped dead? Like, what even?
World Enough and Time – The Doctor Falls:
Remember how I said the best Doctor Who episodes are cruel ones? Yup, these last two were cruel. Well, the former rather than the latter but since the latter is a continuation of that I'll count it too. The plot was clever, it made me gasp, shattered my heart and scared me. This was the BEST story in the whole series.
Plus it had this scene. I hate Missy but she was passably, tolerably amusing. And oh, Bill! Such ruthlessness, much wow. This had Steven Moffat written all over the place even if I hadn't known he wrote it. The old rascal! The whole time-passing-differently was a major kick in the gut, it always is. The Master, before he tore off his disguise, was adorable. I couldn't place him even though he seemed familiar. I though he was Mark Gatiss! Lol. And it hurt! Boy, it hurt, even though I never truly warmed up to Bill.
Twice Upon a Time:
Considering this was the last Peter Capaldi episode ever, I was underwhelmed. Even Argus Filch couldn't elicit much excitement. I knew he wasn't young but man, he's gotten old. It's always cool to see the Doctor with his past/future selves but this Christmas Special was still rather drab.
Bill and Nardole came back, sort of, ish. I'm not sure I exactly followed what that was all about but in a nutshell, the future the two Doctors went to had this technology that lead dead people's memories be preserved upon death and those memories could take the shape of the person. So what they were saying was, cheer up, here's Bill and Nardole, but they are both dead and this is just a bunch of memories walking and talking. Feh.
I was glad to see Clara, though. Oh, I wish she were real and not just the Doctor remembering her! The first face that face saw! I CRI.
Favorite Episodes:
This series was a 6/10 for me and I'm being generous, as usual. My favorite episodes were the World Enough and Time and Knock Knock and I did like the first three as well. The rest was, just, no.
Favorite Scenes:
There are two that I specifically remember even though there were quite a bit that made me laugh or that I liked:
One is in Knock Knock when the Doctor confronts the caretaker of the house and figures out that he is protecting someone. He smiles and asks the caretaker where that someone is. That smile gave me chills. It was such an incredible change of expressions. 12's face is prematurely lined and more used to being grumpy, in that scene his face went from being curious and worried to an all out smile that didn't quite reach his eyes. It was a cold smile and that transformation of it struck me. I loved that.
The other one was at the end of The Lie of the Land. The Doctor and Bill are chilling under a monument of the Monks after successfully driving them away and to prove that humans forget rather quickly, he stops a girl passing by.
Doctor: You, appalling hair, this thing that we're sitting on, what is it?
Appalling Hair: Uh, we thought they were just like, filming something here or something.
Doctor: Thank you, very helpful. Now, go away or something.
What I didn't like (specifically):
So first things first. In the Mysterio Christmas Special there's a scene where Nardole asks the Knight of Camelot, erm, I mean the handsome bad guy 'where the little boy's room is'. The dude becomes nervous and shuts him out but there's no mention of it again. Seriously? What boy? What was he even talking about? Was he implying something I missed?
In the first episode there's a girl named Heather who has a 'star in her eye' and because of that she gets sucked into/possessed by that sentient spaceship oil puddle. Again, what? That 'star' in her eye, what was it? Because it didn't look normal.
I intensely disliked the Missy subplot in this series. It was incredibly pointless, the whole thing. First, the weirdness. You couldn't trust her for a moment and indeed she betrayed the Doctor so many times only to proclaim she was on his side. It ran in circles. And what was with the crying? And that bizarre reaction whenever the doctor touched her? It was so weird. So what, she decided to be good all of a sudden? I didn't buy it for a second.
Secondly, this inner conflict of hers served no purpose at all because as I said, she betrayed the Doctor repeatedly, decided to 'stand with him' at the last and I mean LAST moment and was killed by her past self. What an incredible waste.
Then it was Doctor's refusal to put Missy down. Lemme just put this right here: She, until very recently, was responsible for killing millions of people and causing a shit ton of trouble through time and space repeatedly. Here's what you do with murderers: the law requires them to be executed. And that is just when a single person is killed. The Doctor well and clearly knew how remorseless she/he had been her entire life and still he let her live just because he thought she had changed now? Or because she was the last of his kind and his friend? That is fucking bullshit. This isn't how it's supposed to go. Remorseful or no, that is a just punishment. Especially when you've fucking killed people on a whim. What's better: punishing one person for his crime and letting this be a lesson to others or letting that person live and thereby encouraging others to do the same because you're basically telling them they can get away with murder, and also letting that same person do more harm? I can't even with his shit. People make fun of laws now because they seem 'inhumane' to them. Go fuck yourself. You'll see what the world turns into when murderers are pardoned. Only then, there would be no Doctor to save your ass.
Where was I? Yeah, so another thing is Bill. I don't know anything about her besides the fact that her mother is dead and she likes girls. They made sure to rub the latter in only. Who is that woman she lives with? Where is her father? How old is she? She was just filling the role of a 'companion' and it showed. I don't think we got to really know her.
I don't know, this entire season seemed a little half-assed to me.
Peter Capaldi was my favorite Doctor and I shall miss the oaf greatly. That's actually what I've said about every Doctor ever since I started watching Doctor Who. So who knows? Maybe 13th will become my favorite too!
The Doctor: "Things end. That's all. Everything ends. And it's always sad. But everything begins again too, and that's always happy. Be happy. I'll take care of the rest."