Anime:
Episode 4: "Everything Must Have A Beginning"
Episode 5: "Love Conquers All"
Manga:
Chapter 4: "Everything Must Have A Beginning"
Chapter 5: "Misfortunes Seldom Come Singly"
Chapter 6: "Curiosity Killed The Cat"
Chapter 7: "Love Conquers All"
My Rating: 4/5
That's a two-part story in the anime and it gets quite chilly, actually. Right after the events of the last episode, after dealing with the Dragon issue, whatever that was, Chise is exhausted and so she passes out and wakes up on a train en route to their next task given by the Church. While she sleeps she dreams of cats and the episode just happens to be about cats.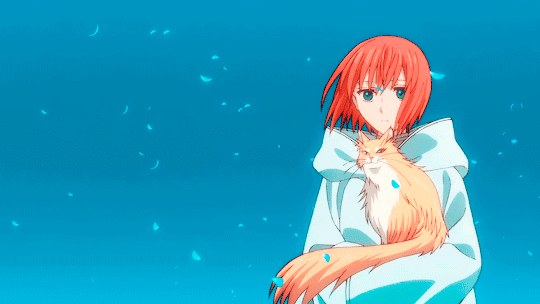 Another magical aspect: cats having nine lives, the ability to talk and a king.
The Manga has Wizards vs Sorcerers while the Anime has Sorcerers vs Alchemists.
Everybody has their own opinions about Elias. While Angelica's and Lindel's were positive, the Alchemist/Wizard they encounter at the end of the fourth episode calls him "The Evil Magician".
I read this somewhere, the Anime calls Chise "Sleigh Beggy" instead of Slay Vega. Which is considerably less cool-sounding.
In one scene Elias licks Chise's neck cut. Now, two things: one, so that bone head moves. That's the first time he did something with it. Two, this was intended as a gentlemanly gesture perhaps or to show how caring he is but I'm getting very mixed feelings with this. She is FIFTEEN for the love of God. AND she's filled with distrust for people. One would think that treading with caution would be the wisest course of action around such a person. Elias just goes there. Sheesh.
The Alchemist/Wizard Renfred calls him "Pilum Murialis" which of course, I didn't catch in the anime. The Manga shows the translation beneath in faded letters: the one that tears and eats castles. Fascinating…
Elias's reasoning for pushing Chise into destroying the blight and not doing it himself was so shady. If it was the truth, it was lame. If it wasn't, maybe it was a test of sorts.
The fifth episode was AH-MAZING. It scared the living shit out of me and yet, by the end of it, I was crying. CRYING, DAMMIT!
I enjoyed this story line a lot and though things keep popping up here and there seemingly randomly I see can it will all make sense eventually.