I read the book recently. I started it on the 1st of January and finished it on the 13th, reading about 100 pages daily. It was my first Stephen King book and I consider it money well spent. The size of his books always intimidated me which is why I never attempted to give his work a try.
It was fantastic and terrifying and got damn near baffling at the end. There was one scene in the book which I found utterly revolting and completely uncalled for. There's bullying, graphic sex, gore, swearing and just about everything that would make a book or a film 17+ so beware.
Full spoilers ahead.
The story is about the mysterious and deadly entity haunting the town of Derry, Maine. People, especially, children, tend to disappear or be found mutilated and murdered and no one bats an eyelash. It's like the town and it's residents are being manipulated which is exactly what it is. The killer clown, or so he appears at first, is an ancient being from outer-space (and this is where it gets really confusing and vague) that has been silently living beneath the town for thousands of years. The town of Derry is IT.
I've already written a review on Goodreads. But basically, the book is all different kinds of horrifying. I'm not familiar with Stephen King's work besides this one book so I don't know if he writes in the same manner he wrote this book which is that he slowly builds up everything, the story, the characters, the surroundings, the history and dread. Major characters, minor characters, the people they interact with, the town, inanimate objects, he goes into incredible detail to paint each of these things and it's what makes it so scary.
He literally goes like, hey, meet this person, he's gonna die a painful and gruesome death. But before we get to it, let me tell you what he was like, what he liked to eat, what he liked to do, where he went to school, whom he married and just about everything else. THEN I'll kill him. And he does. JEE. Thanks, man.
The story is told in flashbacks, alternates between past and present which gets more frequent and nerve-wracking near the end. I think it was scarier and better when it was just the clown and people were going missing left and right. The whole Turtle and macroverse theory thing was too bizarre and awfully disjointed from the rest of it for me to take seriously or even like. It lost all the terror at that point. I mean, huge black spiders? Puh-leeze. Turtles that vomited the universe? Eh?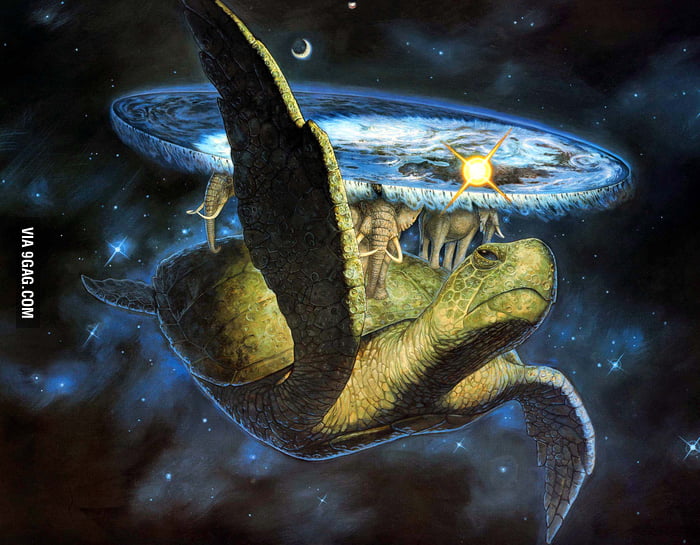 Yeah. I find this cool on some level but it was better when it was just the clown.
Then, as if kids swearing up and down, being bullied and watching the horrors unfolding before their eyes, which no one else could see, wasn't enough, there was this epicly DISGUSTING scene where all six of the ELEVEN year old boys have sex with ONE ELEVEN YEAR OLD GIRL. Right. You have to be ridiculously messed up in the head to consider this okay. Forget it being okay, it didn't even make SENSE. My first argument is that writers come up with insane stuff all the time, surely, he could have thought of something else. Second, a blood pact is generally considered to be this powerful binding ritual that has magic and glitter and all that shit, which the kids MADE. So, I ask again. WHY?
Film Vs Book:
Obviously, a book as enormous as this merits at least two films which is how it's going to be. Even so, there's too much in there that couldn't have been added into the two parts. The extreme detail, for instance. These seemingly unnecessary depth had clues that contributed to the bigger story so cutting them inevitably lead to cutting some major stuff. I didn't particularly find any of the omissions off-putting but the story lost some essential piece of itself.
Bill, Stan, Richie, Mike and to some extent, Beverly, were exactly like their book counterparts, at least to me. I like Ben though he looked younger than the rest. Eddie was the surprise. The book Eddie is subdued while this one was chirpy and sassy and very spirited. All in all, the gang was well chosen.
Georgie was supposed to have died of shock! And his body found! I didn't know it could get worse than that but it did. Instead he was dragged into the sewer.
Beverly doesn't have a mother, Mike's parents are dead and he has a grandfather, we don't see Ben's mother at all, Eddie's mom was fantastic and just like I imagined her in the book, Richie's parents also weren't in the film. Apart from Mike, I don't think the absence of the rest's parents mattered much. But Mike had an amazing father and I felt the absence of that relationship keenly.
The fact that Beverly's father was sick in the head and wanted to do her own daughter was insinuated heavily in the book but was made a bit more explicit in the film. Also, unlike the book, Beverly realizes this at that age instead of later.
Some of the key moments were there, like the leper for Eddie, the sink blood and cleaning thereafter for Beverly, Ben being tortured at the hands of Henry Bowers and a couple of others. I say "some" because it's a huge book.
THANK THE LORD, the disgusting "bonding" scene wasn't in it.
I liked how accurate the film was in terms of violence and language.
The quite literal floating was a nice touch.
The gang broke apart after the encounter at the house on Neibolt street, which did not have the shooting the Werewolf with silver ball bearing scene. Now, this I both disliked and understood. Understood because, again, the film did not have the luxury of length the book did and thus established through painstaking clarity how the group was meant to be formed and how they all clicked together and realized that they were in this through to the end, all of them. So despite being scared as shit, they never turned back even when they wanted to. This surety and strength in their friendship was missing in the film and I felt it. So they broke apart and had to be brought together when one of their own was taken. A film decision, sensible one but again, it took something from the story.
No black spiders or macroverse yet. Didn't seem like a great loss. They can add it in the next film. However, there was a cameo of deadlights and a mention of the turtle a couple of times so maybe the next film goes there.
Pennywise sounded like Scooby-Doo in retrospect. Lol.
Stan's monster was supposed to be dead drowned children but what was that thing in the film? It was scary but really weird.
All in all, it was a good and enjoyable adaptation and stayed true to the book as far as the violence and language goes.
Rating: 3.5/5
Miniseries Vs Book:
It's surprisingly mostly exactly like the book. Like 80% is similar. Obviously it isn't as scary or graphic or even R-ish but I loved how linear and true to the book's plot it was. The changes were there but they made sense .
I loved this Bill as well. His stutter was better than the 2017 Bill's, though. And the older version was great too but older Bill is supposed to be going bald while this dude had a freaking mane! Ehehe.
This version of Ben was better than the new one but I didn't like the older one. Older Ben is supposed to be this supermodel. While the actor is handsome, he wasn't supermodel material.
Both versions of Beverly were great. Young Richie looked too big. Old Richie, young Stan, old Stan and young Mike were a little weird. Old Mike was awesome, young Eddie was truer to the book Eddie while the new Eddie is feisty but still adorable.
The woman who played Audra had such a horrible accent.
There's a scene in the film that wasn't in the book but it was so adorable. Older Bill and Mike ride Silver just like they did when they were kids. I couldn't stop smiling.
Overall, it was great. I liked this a lot at the beginning but then the lack of violence and any actual scare bored me. Plus, old movies have incredibly upsetting CGI which I find hard to stand.
Rating: 3.25/5
Cheers!