Me, with another book tag.
Doing one after two months. Luckily, I found a simple and straight-forward one this time.
1. Audiobook or Text Book?
Text book, for sure. But audio books are great for re-reads as I'm now discovering. See, I loved the Locke Lamora books and I really wanted to read them again but I stopped rereading a while ago, there are simply too many books out there, waiting to be read.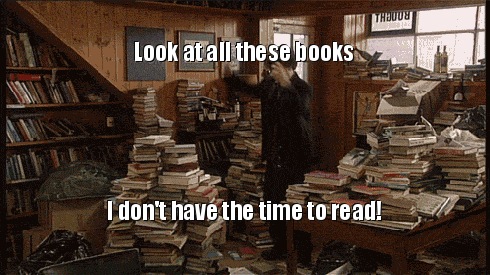 So what I've been doing for the past week or so is that I listen to the audio book while I sew. It's two birds with one stone, sewing and reading/listening, plus I get to read whatever I want as usual.
Text Book: 7
Audio Book: 3
2. Paperback or Hardback?
I do not have a preference.*shrugs*
Paperback: 5
Hardback: 5
3. Fiction or Non Fiction?
FICTION.
FICTION.
FICK-SHUUUUUUUUUUUNNNNNNNN
Fiction: 10
Non-fiction: 0
4. Harry Potter or Twilight?
There's a phrase in English, it's called "righteous indignation". When I'm asked a question as colossally stupid and non-sensical as this one, that's what I'm filled with. HOW DARE YOU, SIR? Twilight doesn't even deserve to be in the same sentence. As Harry Potter. See what I did?
Harry Potter: 10
Twilight: -∞
5. Bookshop or Online?
Erm, well… online. It's convenient in a thousand different ways and it's what I'm instinctively drawn towards as a person. Having said that, I'm not totally opposed to the idea of browsing in book shops. It's fun, if a little depressing.
Online: 7
Bookshops: 3
6. Standalone or Series?
Both! It's a blessing they both exist.
Standalone: 5
Series: 5
7. Sweet and Short or Heavy and Long?
Neither? I like them in all flavors in medium length. That being 300-600 pages at most.
8. Cosy Read/ Reading in the Sun?
Definitely not reading in the sun. Cosy reading for me is being alone, where there is quiet with something to munch on. Reading in the sun means going outside, and that is unacceptable. I'm allergic to the outside.
Cosy Reading: 10
Reading in the sun: 0
9. Hot chocolate or coffee?
Chai.
Hot Chocolate: 0
Coffee: 0
Chai: ∞
Cheers!