It was actually The Harry Potter Mega Ultra Super-Awesome Rad-tasticly Creative Organizer but I feared that the sheer humility in it would put people off.
The backstory goes something like this: I had been using a zipper pouch for my receipts and tags and cards and shit and it was full to bursting. I'd been meaning to try a new idea for an organizer which has these sort of pages, if you will. I toyed with the idea of using different fabrics for the inside but then my thoughts turned to Harry Potter, as thoughts have a way of doing. My motto in life:
"Everything eventually leads to Harry Potter. Never fight it."
Glad that bit of wisdom is out of my system. Dude, that rhymed.
So, I thought why shouln't I just make it Harry Potter themed? And I went to Pinterest and got myself a headache. So many ideas in one place. It all slowly came together and while I'm proud of it. There are certain things that didn't turn out like I wanted them to.
My biggest regret is adding interfacing. Always, I always do this. Attach lots of it everywhere and then it bulks up and it's murder to sew after that. It's a lesson I refuse to learn. Eurgh.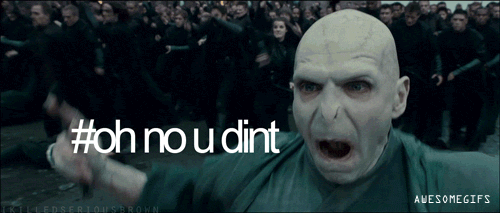 That was me when I had to struggle to put it all together at the end.
Here it is:
This is the Marauders' Map. I bought this book box two years ago that was Cursed Child themed. It had a wand and a scarf and a bunch of bookmarks and stuff. This was that scarf. I didn't think I was going to use it, like EVER so I cut it and applied interfacing and made it into this.
The front and the back is a full piece, there was a piece of the "Messers Moony…" bit on either side, I cut that up and made it into pockets, otherwise it would have been impractically ginormous. It's wide enough as it is.
I'm pretty proud of that elastic binding I made, FYI.
Now, here's the thing: it seems all nice and easy in theory but once you actually start, the harsh truths of life come crashing down. Like the fact that I had to separately assemble each page piece and figure out which to attach to each and what will be on the top and what will go on the bottom and… you get the idea.
These are the first two 'pages'.
This is the section I cut out from each side of the main map piece. I had to attach these two together first, if you see closely there's a stitch line in the middle of the title of the map.
Then I cut these strips from scrap pieces and sewed them together to make the Gryffindor background. The Ravenclaw pocket came from a zipper pouch from another  Harry Potter book box I got last July. I had been using it as a money pouch but when I started doing this, it had to go. Ehehee.
Now, these two pages aren't attached together. Rather, the first page is attached to the very last page and these two make the inside of the map main piece. Then, this house page is attached to another one which is the second last page. These two make the bottom piece of the third and fourth pages. I can guarantee no one understands this. Okay, let's move right on.
These are the third and fourth pages. These were attached to each other to make a complete panel.
I used a permanent marker for the doodles and then ironed the fabric to set the ink. This blue pocket was the back of that zipper pouch. RIP that pouch.
The other page is London-themed. No need to say more. I used vinyl so the design would be visible. Also, I didn't do very sophisticated pockets because I just have to stuff things inside, the different types of things will be separated, hence the 'organized' bit and the pockets are big enough so that they'll hold a lot more than one measly pouch did for a year. Seriously, I love that pouch (I made it, it was orange) but there was no way for me to keep things separate and whenever I had to fish something specific out it was a menace.
Last two pages!
These are the closest I came to a Harry Potter themed fabric in the local market. The right one has always been one of my favorites, it's got a bunch of things that make for a perfect hp mashup print: coat of arms, keys, the colors, the snake/owl/lion hybrid creature. The seal is actually a piece of foam sheet.
Here's how I attached them:
The Marauders' Map title page  with The Hogwarts Letter page (first panel)
The Gryffindor/Ravenclaw page with The Stag page (second panel)
The doodle page with The London page (third panel)
Then I attached the main map piece with the first panel.
The second panel with the third panel.
And finally, laid this second+third atop the map+first and stitched a line in the middle. This was torture because of the bulk.
Aaaaand that is it. I did it!
The things we do for the love of Harry Potter, eh?
Cheers!