I became quite bored during these episodes. Same old, same old. There were some major developments and crazy plot twists that I've come to associate with this show.
Riyuzaki/L suspects Light and keeps him under surveillance, Light succumbs to the pressure and feeling cornered comes up with an elaborate plan that involves him and Misa Amane, the second Kira, relinquishing their ownership of their respective Death Notes which ultimately leads them to forgetting everything to do with the shinigami and the terrible power they both possessed.
The rules keep coming in every episode but I've sort of stopped paying any attention to them. There are a few fun episodes in between but mostly it's just L sitting in front of the screen spying on his targets. He chained himself to Light which I thought was particularly awesome. As for Misa, she's probably the most useless and annoying character in the entire show. I say useless because I dislike her but in actuality, she's quite resourceful and Light took full advantage of her misplaced loyalty.
The guy just cannot stoop any lower. I haven't seen that part yet but I bet all eyes of the shinigami that as soon as Light recovers his memory, he's going to have zero remorse over what he has done.  My favorite episode out of these 10 would have to be "Matsuda". He's plain adorable and I hope nothing happens to him.
You know, it shouldn't be this hard to reveal a little bit of a character backstory at this point. I've seen 20 episodes, for God's sake and I still don't know why L does not sleep. Why he walks bare feet and why he always sits hunched. Eccentricity alone isn't enough, there MUST be a reason.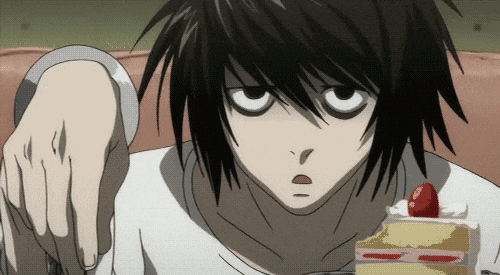 I absolutely LOVE how he speaks. It's so gentle, his voice, almost soothing and bored out of his wits. He is my favorite character of the show. And Matsuda too. They both deserve hugs and kisses but L probably more.
There has been no sign of Ryuk since Light relinquished his ownership although we do see Rem, Misa's shinigami now and again.
I can't say I'm exactly "hot" for this show. I would not miss it, now that I've come so far. But days go by before I'm tempted to watch anymore.