Ten years. That's how long it's been for me. Half of my life, if you will. I've watched this ageless man age and grow and suffer while kicking ass and taking names. I've loved him and cried for him and wanted nothing more than to just give him a hug. Before, Iron Man, Captain America, Black Panther and the Avengers, there were X-men. And among X-men, there was Wolverine. No one deserves such pain, especially a good man like him. A good man who just wanted to be left alone but got dragged back into the fight every time. He fought to be more than what they made him to be. He was … beautiful.
I saw the film two nights ago. It, as they say these days, slayed my very existence, shook me to my core, made me reminisce, nostalgic and so very, very sad. The film was depressingly brutal and beautifully fitting. For a man like Logan, this was truly how it could end, to die giving all he had left for someone else to live to fight another day. That sucker.
Now, I don't know about you, but this makes my throat close up and gives me an uncontrollable urge to cry. Emphasis on the uncontrollable.
The movie begins with a sleeping Wolverine waking up to the sounds of thugs stealing the tires of his Limo. He tries, very nicely, to ask them to step away, they don't, he tries again, less nicely this time, they beat him up, he flies into his trademark rage and tears them apart, defending himself.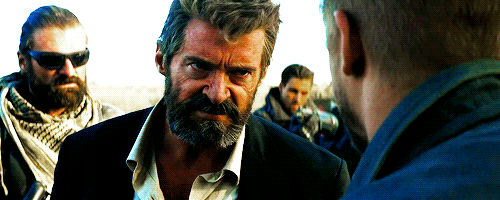 If you have never seen or heard about Logan/Wolverine before which is EXTREMELY unlikely, this scene perfectly sums up his entire existence for you.
I don't mind violence in a film, as in, if it's rated R because of violence and language and not sexual content (prudish alert!), I will watch it given that it's something I want to see, like this film. I wouldn't miss it for the world. Having said that, I don't enjoy it. The sheer level of bloody murder and nasty ripping-open-flesh-and-bone action in this film had me like:

He's limping around the entire length of the film, barely able to hold himself together and trying to take care of his beloved friend and mentor while being repeatedly shot at, stabbed, mutilated and kicked. LEAVE HIM ALONE. HE DIDN'T DESERVE ANY OF THIS. The whole film was emotional torture of the highest kind.
I've respected, admired, loved and rooted for this guy since I was ELEVEN. I've seen him go through shit and rise back up again, only to be put in the same shit in the next film. It went on and on but it was easier to ignore how lonely and miserable his life was because of the lightness of every film's tone. It was virtually impossible to do that with this film, not only because it was darker, grittier and more realistic than all the rest with no humor whatsoever but also because Wolverine in this film is not what he once was, his prime long gone. I was hit and I was hit hard.
Another reason why I think he was subjected to violence more than the rest was due to the fact that he possessed healing abilities. Ooooh, this guy can't be killed! So let's choke the life out of him, let's be as savage as possible. UGH. Watch this film and see what kind of impossible barbarity he was put through. And yet he ploughed on through life enduring shit after shit after shit.
"I've hurt people too."
"You're gonna have to learn how to live with that."
"They were bad people."
"All the same."
This was perhaps the most beautiful conversation in the entire film, one that was mercilessly honest and gut-wrenching. Old man Logan gives his little girl advice, one that she's going to need to remember in the future, one that is completely devoid of any sort of sugar-coating. Really, it would be wrong on so many levels if it was. The one giving it, the one it was being given to, the circumstances that lead to it, everything demanded it. There's no "it's going to be okay", a hug or even a pat on the back. No, he's straight as an arrow with Laura because he knows her life and sanity depends on it. That, and…
"Don't be what they made you."
Oh, don't worry about me. Who needs a heart anyway?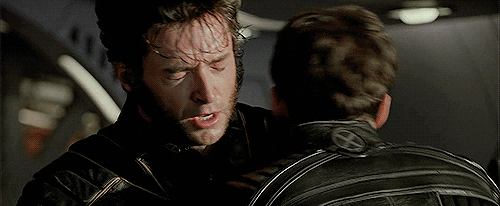 With X-men he finally found a home, friends, loved ones, a place where he could live in peace. Never lasted very long, did it?
My familiarity with the character is restricted to the films alone. I haven't seen the animated versions of him nor the comic book ones. For me, the only version of Wolverine that exists or matters is Hugh Jackman's.
See? He was precious. He was frickin' perfect. But what did they do, after decades of torture? They KILLED him. Oh, yeah. If you didn't know and have just been spoiled, consider this my revenge.
Won't lie, I was in denial when both Professor X and Logan died. With the Professor I thought it was a dream and with Logan I kept waiting for an end credits scene or his hand to suddenly pop out of the grave. Nah.
If I say anything more I'd essentially be repeating myself but here's the last of it: I love you Logan/ James/ Wolverine, whatever you were called, and you would always be my hero.
Farewell,
X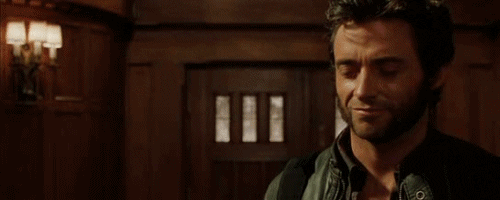 NOPE.